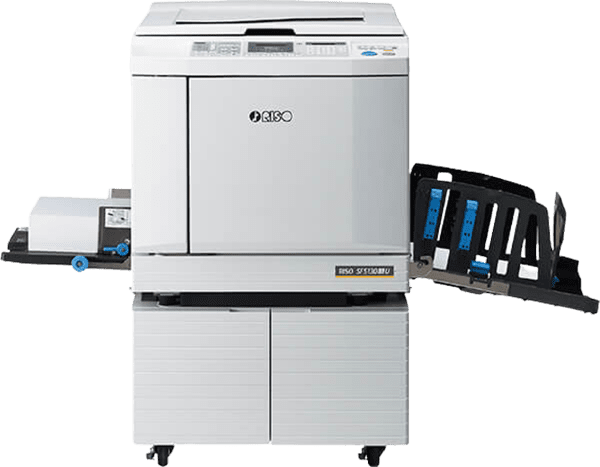 Overview
A Digital Duplicator with Excellent Efficiency
The SF EII series is a significant milestone as well as being a masterpiece of RISO's ceaseless innovation. With its superior operability, high speed and outstanding print quality, the SF EII series advances you into a whole new dimension of printing.
High Speed 150 ppm Printing
Achieving 1000 pages printed in approx. 7 minutes, this surprisingly rapid rate will efficiently support your heavy paperwork requirements.
Heavy-Load Paper Feeding
The paper feed tray has a capacity of 1000 sheets* for both feeding and receiving, which ensures uninterrupted printing over a longer period. *When using the following weights of paper: 64 gsm to 80 gsm.
Easy Guidance for Changing Consumables
The Reading the QR code attached on the duplicator body with a smart device leads to an instruction video on RISO's YouTube channel showing how to replace the master roll and ink cartridge and empty the master disposal box.
Paper Memory Print
Paper Memory Print is useful when it is difficult to print directly from a PC or use a USB memory. Also, converting original data into a digital pattern improves confidentiality and helps prevent information leaks. This function easily converts original data created on a PC into a "Paper Memory Data" digital pattern. Scanning the data, the SF EII series retrieves the original data by decoding the digital pattern, achieving the same high quality of output image as that being processed through the PC.
Ink Color Variations
21 standard colors, 50 custom colors and special order-made colors are available. A wide range of printing colors can meet the needs of a variety of print jobs.
Ink-Saving Mode
While maintaining the printing quality, the amount of ink used can be reduced to 20%. (This may differ depending on printing mode, documents and other conditions.)