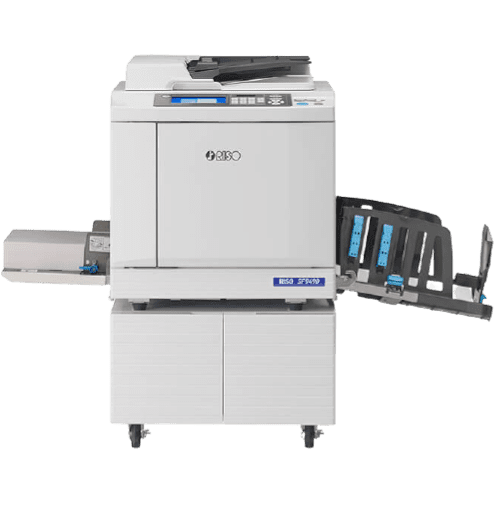 Overview
The Fastest Cut Sheet Digital Duplicator, Raising Standards to the Next Level
Introducing the SF9490, the all-new global brand of digital duplicators that meets all kinds of user needs. The SF9490 is an important milestone and a masterpiece of our ceaseless innovation. With the fastest speed plus superior operability and print quality, this advanced model ushers you into a higher dimension of printing.
Produce More Jobs
At speeds up to 190 sheets-per-minute, the SF9490 is the world's fastest digital duplicator. The short paper path supports a wide range of paper stocks to deliver legendary RISO reliability.
Automate Production
The new Plug-and-Print capability automatically and immediately prints one or multiple saved jobs from USB flash drives without the need for additional user intervention.
Enhanced Image Quality
Improved cylinder motion controls and advanced printer driver algorithms deliver smoother ink transfer and overall increased image quality.
Minimize Short-Run Printing Costs
A new ink-saving mode reduces ink usage by up to 20% for cost-conscious customers and higher profit margins.
Increased Job Flexibility and System Dependability
Rotate pages 180 degrees at the click of a button to reverse the lead-edge for jobs with high-density coverage, increasing paper feed reliability and reducing page-to-page set-off.
Envelope Feeder Accessory
The new Thompson T-100D envelope feeder and T-200 exit conveyor provide continuous load and unload capacity for envelopes ranging in size from 3" x 5" to 6.5" x 13" and heavy paper stocks up to 110lb index.
Note: The Thompson envelope feeder and exit conveyor also support all RISO RZ, MZ and EZ duplicator products.