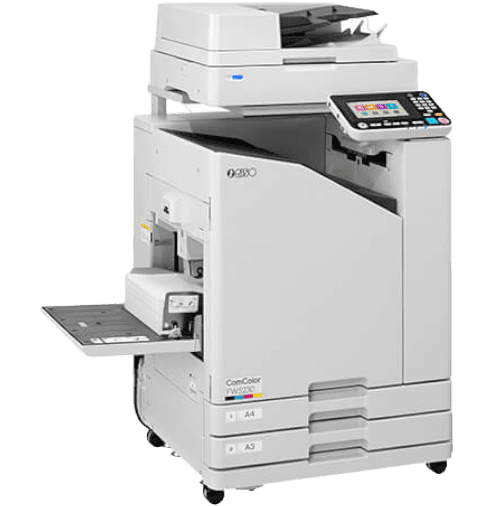 Overview
The Power of Inkjet. Ultimate Speed and Efficiency.
Inkjet printers require no heat when printing, unlike laser printers. The ComColor FW5230 boasts ultra-fast print speed combined with a fast first print time to streamline printing, helping make busy work environments more efficient. Its ultimately low power consumption prevents paper from curling to reduce paper jams. And because output requires no cooling, pages can be sent immediately after printing to any of your optional finishers, vastly reducing production times.
High Productivity
With a print speed of 120 ppm, duplex scanning, and a rich feature set, ComColor FW5230 brings a new level of productivity to any workplace. You'll also appreciate its modest footprint – the ideal choice where space is at a premium. Affordable on-demand, full-color printing ensures smooth operation to increase efficiency.
Simple Operation
An easy-to-view touch panel with instantly recognizable color icons makes printer operation simple for anyone. The tilt panel ensures excellent viewing at any angle up to 90 degrees, expanding installation flexibility. Scan preview windows show scanned images before saving data, ensuring less scan failures. For added convenience when printing and copying, frequently used functions can be saved as Favorites.
Compact Design
The compact print head and tray-free design make for a small footprint, allowing installation of ComColor FW5230 almost anywhere. Two paper-feed trays are easily accessible and hold 500 sheets each of plain paper or recycled paper (85 gsm (23-lb bond)), while the standard tray handles 1,000 sheets. This equals a paper capacity of 2,000 sheets within the slimmest framework yet.
Expanded Usability
The optional PS kit supports a variety of operating systems, and PDF files can be printed directly from USB flash drives, while RISO Print-S application allows printing from smart devices. ComColor FW5230 offers reliable support for any work environment.
Energy-Saving Functions
New features allow you to automatically power the machine on and off at specified times. Up to 10 sets of combinations of start or end time and day of the week can be registered. Users can also set when the printer enters Sleep Mode after the last print job, further decreasing power consumption. This mode keeps power consumption to a miniscule 4W, further enhancing savings on electricity bills. All ComColor machines are ENERGY STAR® certified and boast many other energy-efficient innovations.
Low-Cost Color Printing
ComColor Standard – RISO's original color profile – accurately controls the amount of ink ejected from the print head depending on document type and media. This maintains image quality and optimizes ink usage, ultimately lowering operating costs. Short print runs can now be performed inexpensively and efficiently in-house. FW5230 also supports variable-data printing, eliminating the need for pre-printed stock.
FORCEJET™ Technology
Stable paper feeding ensures the reliable performance necessary for high-speed printing. Paper-feed speed is intelligently controlled, according to how much ink is emitted from the print head. Multiple sensors help ensure high levels of reliability. Instant-drying ink complements the high-speed, duplex printing capability. This specially developed, oil-based ink is also fade-resistant and water-resistant and minimizes paper curling.
Useful Scanning Functions
The optional Scanner HS7000 can save scanned data over the network to a PC, as an attachment to e-mail, or onto a hard disk of a networked RISO machine. Multi-page documents can be saved in PDF format as either separate files or combined into one file. Documents can be saved as PDF, TIFF, JPEG, and PDF/A (suitable for long-term storage) formats.
Easy Installation
The FW series runs on a standard 110V outlet, and compact enough to fit just about anywhere. The FW5230 delivers high performance in a fraction of the space required by other printers.