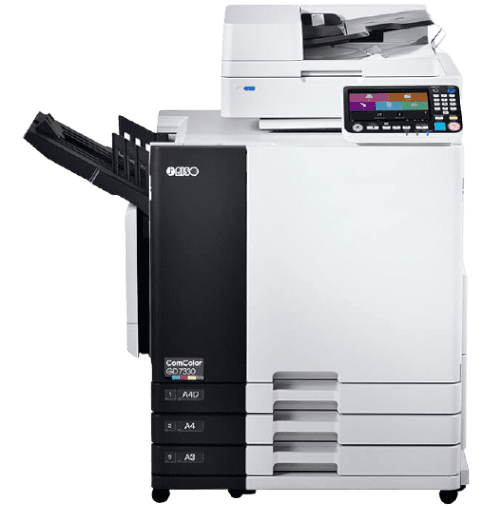 Overview
Engineered to Empower Your Business with High Volume, Reliable and Quality Output
The ComColor GD series is engineered with features that ensure stable output quality for consistent printing results at high speed, including a Piezo system that regulates ink amount. Black image quality has been improved by installing a newly-developed print head and black ink. Additional inks enrich the look of images and enhance overall color quality.
Productive
The RISO ComColor GD7330 can print 650 full-color single-sided pages in approximately 5 minutes. Engineered for high-production environments, with a duty cycle of 500,000 prints per month, the GD7330 is highly reliable and built to last.
Reduced Costs
To minimize ink consumption and maintain optimal print quality, RISO's standard color profile intelligently controls the quantity of ink drops used for each individual color, according to the paper type, to effectively reproduce the original image.
Superior Simplicity
With improved performance and functions, ComColor provides convenience and simplicity for the user. Color LCD touch screen, easy-to-change ink cartridges, and direct printing from a USB flash drive make operation a breeze.
Superior Quality
Newly developed ink technology for the ComColor GD series reduces ink see-through and improves black ink density. Envelope printing is improved with an enhanced paper feeding mechanism for reliable envelope handling, and a new image processing printer driver function for enhanced image quality.
Eco-Friendlier Than Ever
RISO ComColor GD7330 reduces power consumption to an all-time low with the introduction of an automatic power shut-off, using even less power than previous models. All ComColor machines are ENERGY STAR® certified and boast many other energy-efficient innovations. The ComColor technology is truly green.
Increased Capabilities
Productivity-enhancing accessories automate your workflow from start to finish. Use the wrapping envelope finisher to have the industry's first complete in-line print-to-mail solution, or add the ComColorExpress FS2000C, an EFI™ Fiery® server to help improve operation and the management of print jobs, files, and media. High capacity feeder/stacker, perfect binding, and various finishing options streamline production and eliminate the need for outsourcing.